As per a recent post on Google Webmaster Blog, Google has updated long due guidelines for webmasters; SubmitShop team reviewed the OLD vs NEW pages to explain it more easily for our clients and users.
On new pages, you will see a video explaining "Webspam Content Violations" which was not part of the old guidelines. There are also points added in basic and specific guidelines.
In addition in basic principles
"Think about what makes your website unique, valuable, or engaging. Make your website stand out from others in your field."
Addition in specific guidelines
Automatically generated content
Abusing rich snippets markup
As we know that Google has already said about Buying or selling links for Page Rank, Excessive link exchanging, linking to unrelated sites and partner pages, we have observed that there are major changes in https://support.google.com/webmasters/bin/answer.py?answer=66356
Link schemes guidelines for webmasters which we are going to explain in detail
Text advertisements that pass PageRank
Google is against paid Text advertisements that pass PageRank and said that the direct violation of its webmaster quality guidelines. It's interesting how Google will deal with text ads on HIGH PR News/Blog, Blog Roll paid text links (Do-Follow) on reputed SEO blogs.
Links that are inserted into articles with little coherence (Contents)
Avoid low quality little content used only for linking purposes. Here articles mean short content written to embed a series of links. However, if you have a good unique, fresh detailed article, there is no problem in that case.
A piece of Example By Google of Little Content
most people sleep at night. you can buy cheap blankets at shops. a blanket keeps you warm at night. you can also buy a wholesale heater. It produces more warmth and you can just turn it off in summer when you are going on france vacation.
Low-quality directory or bookmark site links
These are the links from the lowest quality directories/bookmark sites which have 1000+ pages with no real value for users,  they look like spam web directories from the first observation. In our views links from directories that have already 6000+ pages and links, have no value at all. Also here bookmark sites do not mean Social Networking sites.
However, Google has no issue with Quality web directories/ Bookmarking sites (High Authority and Trust), for example, links from Yahoo or Dmoz, etc.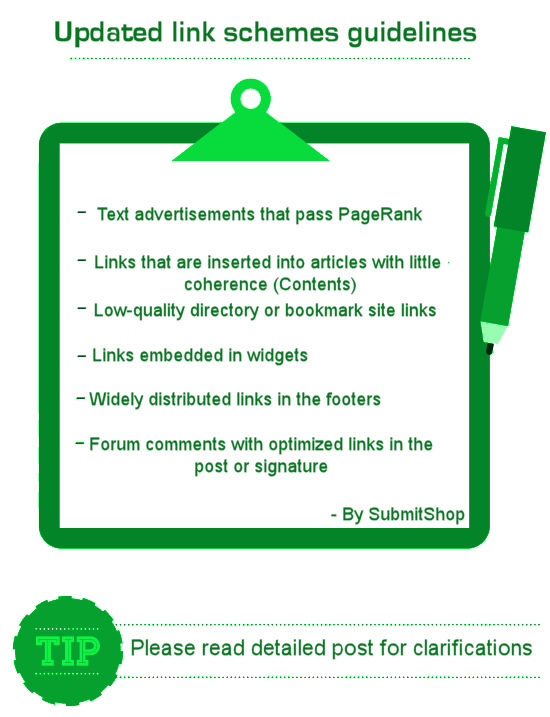 Links embedded in widgets
These are the links that are embedded in widgets that are distributed across various sites, for example:
Visitors to this page: 1,472
Auto insurance
These are clearly advertisement links, however, some links are natural like in widgets from ADD THIS social plugins, Let us see how Google will deal with those links.
Widely distributed links in the footers of various sites
Widely distributed links in the footers of various sites like FREE Themes/Premium Themes/Powered By /Software which are distributed under PAID/Licensed/FREE/GPL for WordPress, PHPbb, and other Softwares or Sitewide footers links.
It will be interesting to see how Google Deals with reputed GPL free software providers like WordPress, PHPbb, etc.
Forum comments with optimized links in the post or signature
These are the forum comments with optimized links in the post or signature, for example:
Thanks, that's great info!
– Jack
Jack's pizza LA pizza best pizza LA
In the above example, it clearly looks low a quality post made for links only. Avoid such types of posts made for links with no contributions aiming at anchor texts only.
However, Google has no issue with links that are from reputed forums with healthy/meaningful discussions/replies in related forums which look organic or natural.