As we all know that Penguin update is focused on low quality links as well as anchor text over-optimization of back links. Now its must to maintain a natural anchor text profile by mix of anchor texts and organic linking methods . It will be good to have 70% non-targeted and 30% targeted with good mix. So how we can create diversification in back link anchor text profile?  We can achieve this by reducing the unbalance among exact match, partial, naked eye URL and generic keywords. 
We can adopt these anchor text patterns:
Brand Based Anchor Text
Naked Eye URLs
Junk Anchor Text
Exact Match Anchor texts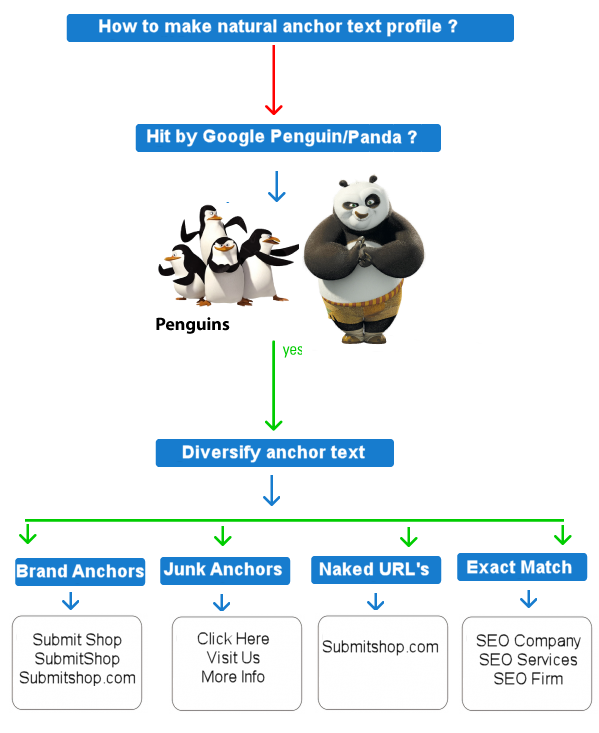 Branded Anchor texts: These can be exact brand name or variation of the brand name + keywords. Brand linking or mentions also helps as social signals to Google. Some example of branded anchor texts are as:
Submitshop
Submit Shop
www.submitshop.com
submitshop.com

Submitshop Company
While researching the best example i came to know is Search Engine Land, You can study the back link profile of https://www.opensiteexplorer.org/anchors?site=searchengineland.com , the leading SEO and Search Engine news site owned by Danny Sullivan
Naked Eye URLs : Naked URLs are the exact or actual URL of website with which linking is done as anchor text. This type of anchor text is high weight signal for Goggle for natural  or organic linking, some of the examples are :
submitshop.com
www.submitshop.com
https://www.submitshop.com
Junk Anchors : Junk anchor text is neither exact match nor brand related, and such links are like "click here," "Read more",. Its mainly universal in nature.  SEO's and Webmasters now love this type of linking as opposed to few months ago, when it was considered as bad linking patter. Junk anchor text send strong singnal to Google of real or natrual linking. Some of the examples are as
"click here"
"visit this website"
"learn more"
Exact Match anchor texts : These are the terms for which you are trying to rank in Google or other search engines. These again can be mixed with other terms to look more generic, for example
SEO Company
Best SEO Company
SEO Services Company
As we know that Google Penguin detects unnatural links as well as linking patterns, and when he detects Anchor text over optimization, which is the main primary artificial linking patterns, there are more chances to apply filters on your website. So you should avoid aggressive anchor text for keywords in backlinks and should create anchor texts diversity as per given methods.