Google, today introduced the "Manual Webspam Action" viewer feature in Webmaster Tools, A much-awaited feature requested by webmasters and website owners. Google has been taking manual actions for the violation of their webmaster quality guidelines, and due to that many faced downfall in keyword rankings, few received the messages confirming the same and few witnessed lower ranking without getting any messages in WMT, So many webmasters wanted to see what's gone wrong with their website OR is it due to the fact that Google has taken any action against their website. With the introduction of the "Manual Webspam Action" button, anyone can see if the action is taken or not.
This feature is located under the "Search Traffic" Section named "Manual Actions". Clicking on this will display any action taken with details; otherwise, it will read as "No manual webspam actions found."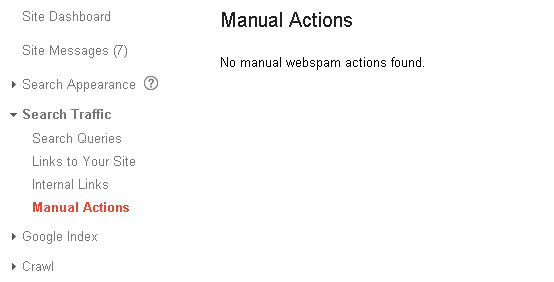 Google also confirmed that only less than 2% are such cases that are removed/demoted from Google with a manual action, so the majority of sites will see as "No Action Found". If your site has been found having manual action, probably you will see detailed information mention like if it is "Site-Wide" Or "Partial Match" and type of problems like "Unnatural Links", "Hidden text" or "Pure Web Spam" etc (Read here in detail about all included web spam types).
In case of "Partial Match", It will also show you the list of URLs that have been taken action against. There is also a "Request a Review" button for such sites to request a quick review once you have fixed the problem.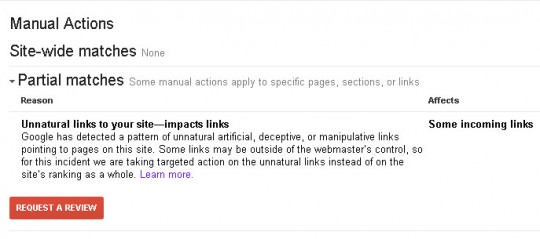 As you will see in this screenshot (Partial Match) taken from WMT, Google is confirming "Unnatural Links" partial action but does not have enough details for the same.
In recent Panda and Penguin updates, we have seen that many sites lost their rankings in Google, however, all those not received any message in WMT. As stated above, Google assumes only less than 2% of sites that may have a manual action, than what happened to all the other sites which experienced lower keyword rankings after Penguin 2.0 updates, It may be due to the devaluation of low-quality links or there is still something which is not clear/known to website owners.