Much awaited by webmasters and web owners, a tool to disavow links is launched and is located at URL https://www.google.com/webmasters/tools/disavow-links-main.
As we all know bing has already was the first one to do this, now Google has taken a step further to make the life of webmasters easy. This Disavow Links tool will help if you have got manual spam action based on "unnatural links" pointing to your site message in webmaster tools.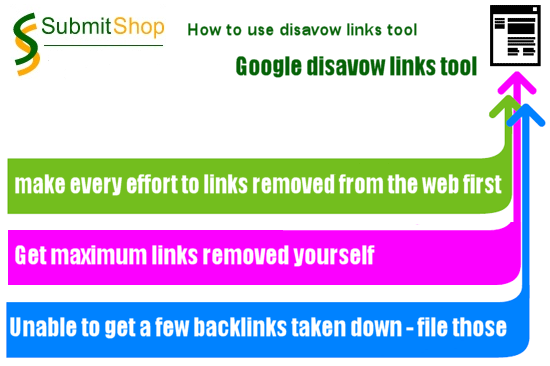 Will this tool solve my all problems?
No, We need to understand what this tool can do for you, if you are thinking that
This tool will do all automatic – Wrong
I do not need to remove links – Wrong
I do not need to contact the webmaster for link removal – Wrong
If you still have thought that this tool will do all things automatically after loading all links by text file? No, Matt Cutts video and Google blog post clearly highlights and warns that you need o contact webmasters to get those low-quality links removed personally or from hosting companies. Google strongly suggests you make every effort to have them removed from the web first. Another thing is that by using this tool for all your links sheet (without making link removal yourself) you are sending a strong signal to Google that you have been involved in unnatural SEO methods or practices, so carefully consider how it's used.
We recommend that you contact the sites that link to you and try to get links taken off the public web first
This tool will help those links which have no way to get removed by contacting site owners or link sources.
What if you don't try to remove links? Matt Says
No, I wouldn't count on this. In particular, Google can look at the snapshot of links we saw when we took manual action. If we don't see any links actually taken down off the web, then we can see that sites have been disavowing without trying to get the links taken down.

How to use disavow links tool?
Here at Submitshop, our team tried it practically and when you will click on this tool https://www.google.com/webmasters/tools/disavow-links-main, It will give you the list of websites to select which you are the verified owner. You can select a website and Click "Disavow links"
The next screen will ask display saying
"This is an advanced feature and should only be used with caution. If used incorrectly, this feature can potentially harm your site's performance in Google's search results. We recommend that you only disavow backlinks if you believe you have a considerable number of spammy, artificial, or low-quality links pointing to your site, and if you are confident that the links are causing issues for you."
You can upload the text file as explained by Google with a particular format with a plain text file with one URL per line. An excerpt of a valid file might look like the following:
# Contacted owner of domainspamabc.com on 7/1/2012 to

# ask for link removal but got no response

domainspamabc.com

# Owner of domainspamabcd.com removed most links, but missed these

https://www.domainspama1.com/contentA.html

https://www.domainspama2.com/contentB.html

https://www.domainspama3.com/contentC.html
Here is a video from Matt Cutts explaining more about this tool.