Google penguin update has given a birth to new service known as link removing or link pruning. If you have been penalized by Google for bad spammy or low quality linking it is obvious that only removing harmful links can get out of this. Websites which are affected by this update are already taking help of link auditors and link removal specialists to correct their link profile. If we talk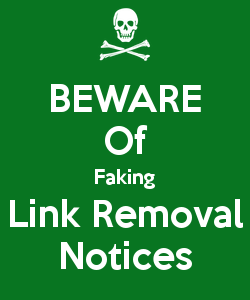 about the risk involved with removing unnatural links every body will say NO. I also agree it is always better to remove the shady or inorganic links.
Still there is risk involved in getting these services which can affect your link profile and ranking in search engine results. The risk is known as fake link removal notices.
This is one of the Negative SEO which is being carried out by Spammy or Black Hat SEO companies hired by your competitors. As soon as you start sending emails to owner of sites where you have artificial or unnatural links, the Spammy SEO will start sending mail to the owner of the websites where you have good links. By removing good links competitors will get your site down in search engines ranking. Here is one case study.
I am owner of my webmaster blog and suddenly I got an email for removal of link of one website on one of the post. I write for my own and link the site which I feel is good for my blog users. I know my blog ranks good and have given link to the good and authority site. I checked the mail is was like this domianname.com@gmail.com. I immediately got an idea that it is fake link removal notice. I get in touch with the owner of websites and got immediate response that they have neither send mail nor authorized any link pruning agency to do this work. I concluded that this is Negative SEO.
Now what is the solution for such notices or illegal removal issues. I think only the site owner who has given the link can do removal or keep the links. It is his judgement which will work. My opinion is that before starting any link removal campaign, the link website should use their own domain name email to carry out this work and site owners should only remove the links if they get email from the same domain whose link to be removed. To be more accurate they can reply and get confirmation that you need link removal or not.